Subangan Nirmaleswara-Kurukkal
Founder, President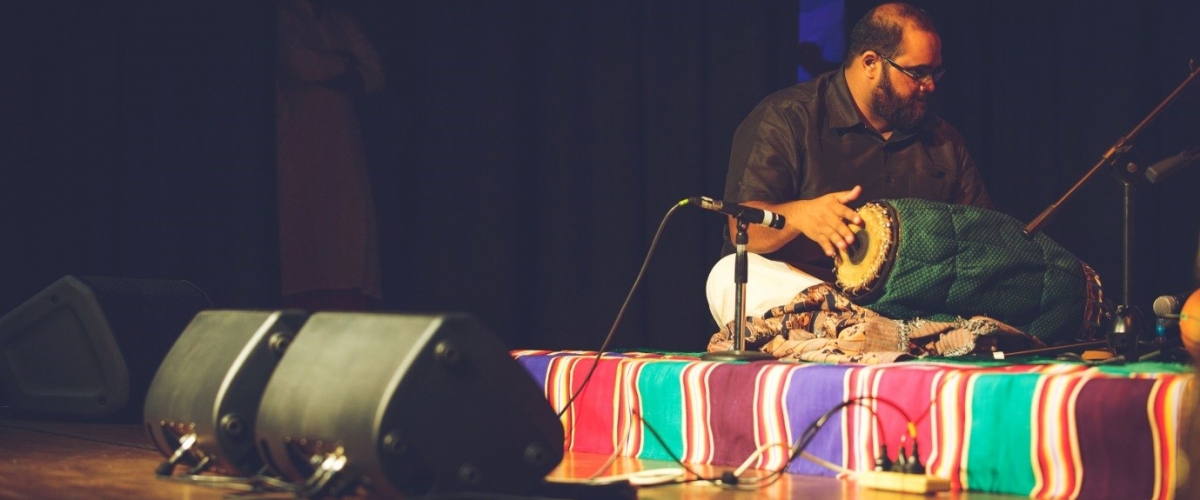 Subangan had his initiation to the art of Miruthangam from Sri Baheerathan Somasunthara Iyer and later come under the guidance of Sri Ratnasabapathy Suthanthiraraj – a well-respected guru of both Miruthangam and Flute and founder of Ghanalayam Music Academy in Sydney. He is currently undergoing his advanced training from the renowned Vidwan 'Nadhaoli' Melakaveri Sri K Balaji.
Subangan has been involved in classical arts both as a concert organiser and accompanying artist for more than 10 years. He has taken part in numerous events and accompanied a number local and visiting artists from abroad on both the Miruthangam and Kanjira.
Subangan is the founder and serving president of Karpahavalli. His role in the organisation includes; capacity building, creative direction and steering the current organising committee. Subangan also regularly performs as a mridangam and kanjira artist.
Subangan is also a passionate Carnatic Music teacher who teaches a select group of students. Subangan holds a Diploma Law from the Legal Profession Admission Board and a Business Degree completed at APM College of Business. Subangan works for a leading ERP and Business solutions firm in Sydney.
Kranthi Kiran Mudigonda
Vice-President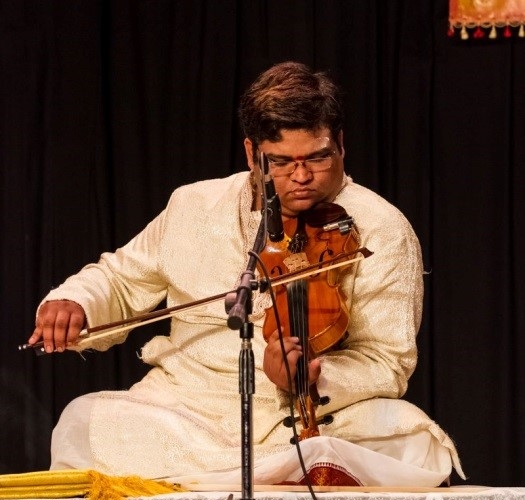 Kranthi Kiran Mudigonda is one of the leading Carnatic Violinists in Australia. He had his initial training in music with Sri P.S.S.R Jagannatham and Sri N. C. Ramanujam. He had advanced training under eminent vidwan Sri Dwaram Satyanarayana Rao at Hyderabad. He is currently under advanced tutelage in vocal from Hyderabad Brothers and violin from Parur Sri M A Sundareswaran.
Kiran has a vast experience in accompanying local and visiting artistes for various concerts across Australia. He has also participated in various cross-genre collaborations and creative developments.
Some of the reputed musicians and dancers he accompanied: The Carnatica Brothers, Sri O S Arun, Smt Charulatha Mani, Smt Manda Sudharani, Dr. S Sundar, Sri Sankaran Namboodri, Padmabhushan Sri C V Chandrasekhar (Bharatanatyam dance exponent), Padmasri Dr Ananda Shankar Jayanth (Bharatanatyam).
He also developed interest in percussion and has undergone training in mridangam and kanjira from Sri Varanasi Kaliprasad Babu, Melakaveri Sri K Balaji and Sri Nerkunam Sankar. He continues to learn mridangam from Maestro Sri Patri Satish Kumar.
Kiran is a Software Test Consultant by profession and teaches Carnatic Vocal, Violin and Mridangam at Geervani Academy of Performing Arts in Sydney.
Poorvaja Nirmaleswara-Kurukkal
Secretary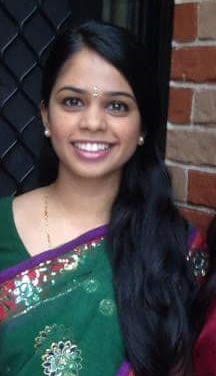 Poorvaja is the serving Secretary of 'Karpahavalli Inc.' Her passion for Indian Classical Arts developed at young age, through her learning in Indian Classical Dance, Vocal and Violin.
Poorvaja has been learning Bharathanatyam under the tutelage of Smt Krishna Segaram of Austtam Fine Arts for the past twenty years. She completed her Bharathanatya Arangetram in 2009 and has had the opportunity to undertake advanced training with Chinnamanur Sri J Krishnakumar (Chennai). Poorvaja has performed in a number of Austtam productions as well as the Sydney Music Festival, Sri Venkateswara Temple and The Vipanchee Trust (Chennai). She is also a student of Carnatic Vocal, learning under the tutelage of Smt Subhashini Harinath.
Poorvaja's passion for Classical Arts extends to Tamil Literature. She achieved Band 6 results in 'Tamil Continuers' for her Higher Secondary Certificate (HSC) and is a longstanding member of Kamban Kazhagam Australia.
A lawyer by profession, Poorvaja takes great pride in contributing to the goals of Karpahavalli and welcomes your support to further arts and culture not only in Sydney but Australia-wide!
Pallavarajan Nagendran
Executive Member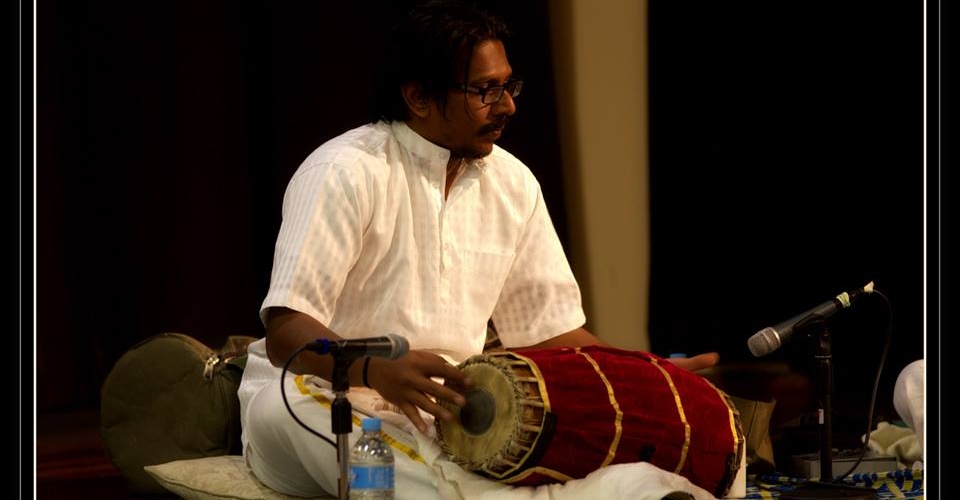 Pallavarajan Nagendran, a disciple of T.R. Sundaresan, is a high calibre Mridhangist who was initiated to the divine art of Mridhangam at Singapore Indian Fine Arts Society (SIFAS). He commenced his initial training under Karaikudi Krishnamurthy and continued to further his knowledge under the tutelage of Isaimani Chennai K. Deenadayalan. In 2001, under the guidance of Thiruvarur Vaidhyanthan, he completed his Diploma in Mridangam and was awarded the title "Vadhya Vishard", conferred by SIFAS.
Performing since young, his passion and dedication to the art form has seen him widely perform across international arenas and accompany numerous world renowned artists for classical and contemporary music and dance. Pallavarajan is an active member of Sannidhi Music Academy Chennai, which was founded by his Guru T.R. Sundaresan.Currently he resides in Sydney and is a professional in the field of Accountancy.
Nirmal Ayyar
Executive Member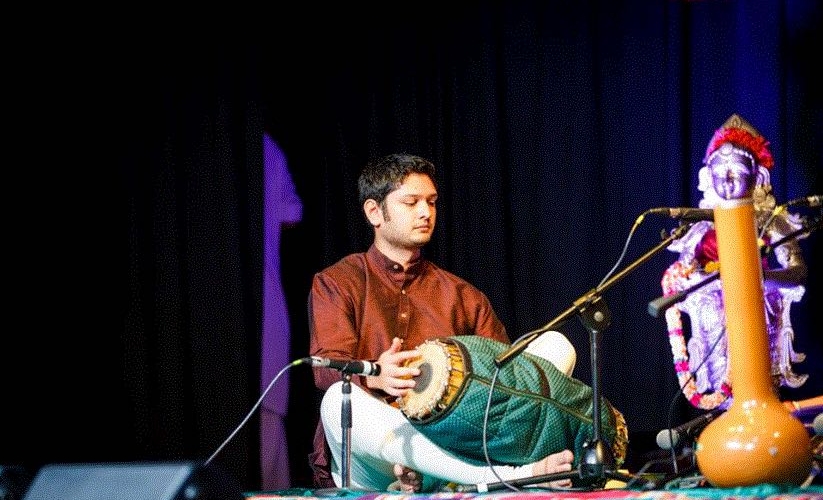 Nirmal commenced his training in the Miruthangam under the initial tutelage of Sri Suthanthiraraj before progressing his skills under Sri Bala Sankar & Sri Trivandrum Balaji. He continues his advanced lessons under the guidance of Sri Melakkaveri Balaji. Nirmal learnt vocal music from Smt Prema Anandakrishnan and Smt Uma Ayyar. He continues his training from Dr Ramanathan. Nirmal has had the privilege of providing accompaniment in a number of student concerts in Sydney for over 10 years and continues to be actively involved in the Carnatic community.
Nirmal's passion for music has also led him to be involved in promoting Carnatic music among the youth of Sydney. He subsequently joined the Karpahavalli committee in 2010, where he continues to encourage and support young talent and provides them with opportunities to grow in the art.
Lavania Sivapragasam
Executive Member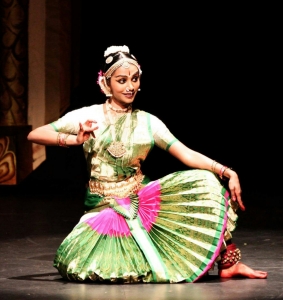 Lavania commenced her training in Bharathanatyam under her Guru Smt. Jayalukshimy Kandiah (OAM – Queens honours) the founder of Natanalaya Dance Academy.  Completing her arangetram in 2006, she has been blessed to be able to perform across many stages in Sydney including The State Theatre and Allphones Arena.  Representing Natanalaya,  she performed overseas mainly around India at the Natyanjali festival, Brahan Natyanjali festival, Taj Mahotsav, Khajuraho, Varanasi, Delhi, Kerala and also at Singapore's Jubilee Hall.
Stemming from her love for Bharatanatyam, she also takes a keen interest in Carnatic music. Lavania takes delight in her role as a Karpahavalli committee member and enjoys learning about India's sacred art forms.